Back to Blog
Where to Buy CoreBiome®
CoreBiome®, the complete "pre-pro-postbiotic"  is in this growing list of some of the best brands in the wellness market. The long answer of where to get tributyrin is here.
CoreBiome® is the foundational ingredient for gut formulas that formerly only included probiotics. Many are realizing probiotics are transient and difficult to colonize in an inflamed gut. Getting the gut back into balance with CoreBiome® and prebiotics is the first step.
Find CoreBiome® Here:
Ritual reshapes your relationship with your gut. They use a cutting-edge approach to digestive support that has been long-missing from our daily, ahem, ritual.
Here's what's in Synbiotic+
Probiotics to support relief from bloating, gas, and diarrhea
Prebiotics designed to target undesirable bacteria in the gut and support the growth of beneficial gut bacteria.
CoreBiome® tributyrate provides fuel to the cells that make up the gut lining and supports gut barrier function. Learn more about CoreBiome®
Bio Complete 3 can help individuals with:
Immune support. It's estimated that 70% of the immune system is located in the gut
Reaches colon not just stomach (Colon is ideal for probiotics and postbiotics)
Traceable ingredients
Moisture control technology in bottling so your probiotics are safe
Read About Ritual's High Standards with CoreBiome® right here.
Beekeeper's Propolis B. Biome Complete Gut Health
This is the world's first propolis-powered gut health capsule. 3-in-1 Complete Gut Health supports regularity and overall digestive balance with pre-, pro-, and postbiotics. Beekeeper's calls it a triple threat of ingredients because it promotes a healthy gut microbiome, supports brain and immune function, and helps regulate the inflammation that naturally occurs in the gut. We agree!
Here are highlights:
Tributyrin (as CoreBiome®),
Propolis Extract, Probiotics Blend (Bacillus subtilis HU58 and Bacillus coagulans SC-208), Vegetable Capsule (vegetable cellulose), Rice Hull Concentrate.
Clinically-studied 3-in-1 gut health formula with pre-, pro-, and postbiotics for whole body health
Strengthens the gut barrier and decreases intestinal permeability
Supports the growth of beneficial gut bacteria and microbial diversity
Helps regulate the normal inflammatory response in the gut which can cause bloat and discomfort
Enhances the digestion process and improves regularity
Supports your immune system
Read B.Biome with CoreBiome® Reviews right here.
"I designed this unique 3-pronged blend of probiotics, prebiotics, and postbiotics to work together to give your gut a major boost. And once these specialized compounds get to work in your body, don't be surprised to see your digestion greatly improve… along with your energy levels, weight, and overall health."* –Dr. Steven R. Gundry
These are the main ingredients in Bio Complete 3:
Tributyrin (as CoreBiome™ "pre-pro-postbiotic")
Sunfiber®
Bacillus Coagulans (ProDURA®)
Bio Complete 3 can help individuals with:
Excess weight — especially deep fat — finally becoming easier to lose*
Fatigue being replaced by an ABUNDANCE of youthful energy*
Digestive issues improving dramatically, or vanishing altogether*
Cravings for unhealthy foods feeling like a distant memory*
Manufactured in USA / 90-Day Money Back Guarantee / GMP Certified Facility
Read Dr. Gundry Bio Complete 3 Reviews right here.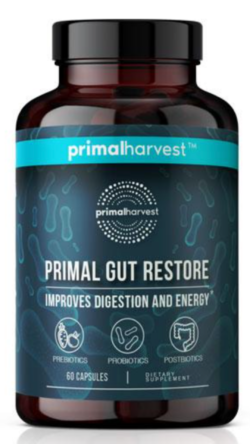 Primal Harvest Primal Gut Restore
Tributyrin is the natural butyrate found in butter and it's the superior form for digestion, absorbability, and bioactivity. This short-chain fatty acid has been the subject of much research and is proven to be more potent than other forms of butyric acids.
With Corebiome® tributyrin, Primal Harvest Primal Gut Restore helps your gut by aiding your body's inflammatory response, stimulating the growth of new cells in the gut wall, creating a greater surface area for nutrient absorption, controlling the gut's pH level and much more!*
"THE MOST COMPLETE APPROACH TO GUT HEALTH ON THE MARKET
 Complete gut health formula with prebiotics, probiotics, and cutting-edge postbiotic technology
The Patent-pending CoreBiome® offers postbiotics to strengthen gut lining and help with gut barrier function.
Powerful B. longum BB536® probiotics to improve digestion
"iXOS" xylooligosaccharide prebiotic
Optimize immune system function and overall health"*
Check out the Primal Harvest Primal Gut Restore reviews right here.
Mary Ruth's Complete Gut Health+
Now you can find CoreBiome® in Mary Ruth's Complete Gut Health+. Tributyrin is a natural butyrate and a short-chain fatty acid. This has been found to be more potent than other forms of butyric acids. Corebiome® Tributyrin helps your gut by aiding in the body's inflammatory response and stimulating growth of new cells in the gut wall and so much more.
"Support Gut Health & Immune Function With This Pre, Pro, and Postbiotic! A healthy gut is important for many of the body's functions — support optimal performance of your microbiome with these vegan capsules.
Non-GMO | Vegan | Pine-Based Vegan Capsules | Dairy Free | Nut Free | Soy Free | Corn Free | Nightshade Free | No Added Sugar | Keto Friendly | Made in a GMP Facility"*
Check out the Mary Ruth's Complete Gut Health reviews right here. (It's so new, you can be one of the first to review!)
Jay Cutler Probio-50 Probiotics
Why would a bodybuilder need Corebiome® Tributyrin? Because the gut literally affects everything, that's why. When your gut struggles with imbalance, it can absolutely slow the progress of reaching your optimal physique and health goals in myriad ways. Jay Cutler Probio-50 is ahead of the pack by introducing gut health and immunity support to bodybuilders already "in the know".  Plucked from the website, here is what Cutler Nutrition is saying about Corebiome®:
"Each serving of Cutler Nutrition's PRO-50 contains a new, cutting-edge ingredient that helps fuel and maximize the power of probiotics called CoreBiome®.
CoreBiome® is a clinically researched and patent-pending form of Tributyrin, a short chain fatty acid that acts as a postbiotic. Prebiotics & postbiotics are compounds in food that induce the growth or activity of beneficial microorganisms such as bacteria and fungi, and actually help fuel the growth of more beneficial probiotics, and help the 50B CFU blend in PRO-50 do its best work.
CoreBiome® has incredible research behind it, specifically when it comes to improving gut flora, promoting a healthy microbiome, and strengthening intestinal lining."*
Read the Jay Cutler Probio-50 with Corebiome® reviews right here.
Designs for Health Tri-Butyrin Supreme™
Designs for Health is a pioneer in the health practicioner space and one of the first to enter with Corebiome® Tributyrin, finding a lot of success. We're so excited to continue our relationships with them as they help folks get access to gut health. With our Corebiome® Tributyrin, Designs for Health Tri-butyrin Supreme™ is well worth the try if you are exploring options on how to get Corebiome® Tributyrin. Here's what our friends at Designs for Health say:
"Tri-Butyrin Supreme™ represents a new approach to gut health and immune function by modulating intestinal flora, promoting colonocyte health and supporting proper gut permeability.* This product features CoreBiome™, a patent pending form of tributyrin. Each softgel provides 300 mg of this novel, broad-application compound."*
Curious about the Designs for Health team? Learn more about them right here.
What's the secret to ultimate happiness? Well, we're not exactly sure there. But what we do know is the secret ingredient to a lot of wellness and gut health can be found in balancing the gut microbiome. This is where Hapinss Brands BiomeiX™ ADK comes in with Corebiome® Tributryin.
Corebiome® Tributyrate is revolutionizing how you find your gut happiness.  Hapinss Brands gets this and by exclusively working with a postbiotic that delivers the patent-pending form of Tributyrin from Corebiome®, we are happy to know more and more individuals are finding balance. From their website:
"The first product of its kind that hacks your system to get gut healing SCFAs into your GI tract for an amplified sense of wellbeing.
The secret ingredient is Corebiome® Tributyrin.
[It delivers] butyrate to get to the colon where it is needed.
Butyrate is a short chain fatty acid (SCFA) produced in the colon from undigested portions of vegetables (aka fiber). SCFAs, including butyrate, are produced by friendly gut bacteria and are the main source of energy for the cells lining your colon.
Due to increased consumption of highly-processed, low-fiber foods rich in sugar, lower levels of butyrate are increasingly observed in the large intestine. Therefore, butyrate supplementation holds potential as a means to improve gut health."*
Learn more about Hapinss Brands BiomeiX™ ADK.
Learn More About Tributyrin

We work with great formulators and brands. When it comes to where to buy CoreBiome®, we know the list is growing. Read this if you want to learn more about who we work with. If you're still on the fence about the benefits of CoreBiome® Tributyrin, or exactly what are postbiotics and where you can find them outside of a supplement, we have even more resources for you.

*Product descriptions in this article are taken from each individual brands' website. Please refer to each brand website for detail on the product benefits and claims.